Tuesday 11 June 2013 to Sunday 30 June 2013


Exposition No.4 Laure MUEL 2013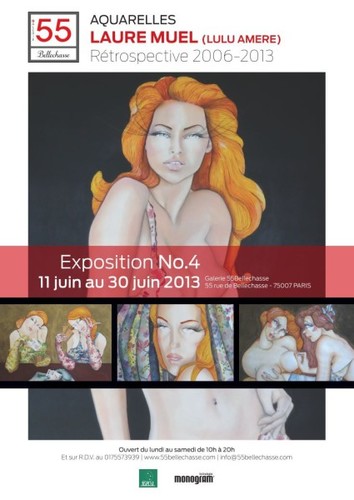 Préparez-vous à être troublés.
Laure Muel (Lulu Amere) est une artiste prudente et pudique, très discrète également.
Ses œuvres sont rares et délicates, comme le support qu'elle a décidé de privilégier, le papier. Un papier d'Arches, celui qu'utilisent la plupart des aquarellistes. Un papier épais, qui vit et respire même après que la touche finale d'aquarelle, de pastel, d'encre de chine ou parfois de feuille d'or, a été appliquée, comme une dernière caresse. Laure cherche ses papiers, pinceaux et couleurs, avec grand soin. La qualité de ceux-ci est la garantie d'un rendu optimal ainsi que de la pérennité de chaque œuvre. Rien n'est laissé au hasard. Et la gageure est de faire avec l'aquarelle, cette peinture à l'eau qu'on donne aux enfants, une peinture élaborée et moderne. C'est une manière différente d'aborder cette technique. Depuis presque 10 ans, presque par jeu. Laure a commencé à dessiner et a vite connu une certaine notoriété, grâce à un site de ventes aux enchères en ligne. Lulu Amere y proposait le charme de ses talents aux plus offrants. C'est l'origine de cette anagramme parfaite -bien pensée, et de ses dessins très érotiques.
Forte de ce petit succès, forte également de ses racines (Laure est fille d'une artiste peintre et d'un sculpteur), elle sera chargée de mission auprès d'un grand collectionneur de tableaux, puis graphiste en agence de publicité. La voie était ouverte. Grâce aux encouragements toujours plus nombreux et à l'engouement des collectionneurs, l'enthousiasme « international » qui entoure son travail ne cesse de croître. Même si les talents de Laure ne trouvaient que dans l'anonymat d'internet une vitrine compatible avec sa pudeur, elle accepte en mai 2013 le principe de cette rétrospective 55Bellechasse – Paris7.
Nous avons beaucoup de chance.
Influencée par un maître de l'érotisme Jean-Pierre Ceytaire, et à force de faire ses fameux dessins, la technique s'est affirmée, et le besoin de faire bien plus et de mieux en mieux avec. Maintenant, Laure se consacre exclusivement à la peinture. Elle vit et peint dans le Sud de la France, en Provence, dans un atelier accolé à sa maison. C'est là, sur un flanc de montagne orienté vers le Sud, que Laure a trouvé refuge, loin des tumultes de la vie parisienne, au bout d'un chemin de chèvres sinueux. Elle vit au milieu de ses poules d'ornement, son chien, ses chats, en pleine nature.
Rencontrer Laure ou recevoir un colis contenant sa signature est un moment toujours spécial, très attendu, qui ne laisse pas sans une pointe de fébrilité. Mais attention, le colis, il faut le déshabiller avec doigté, le contenu est fragile et la conquête nécessite de la patience ; les colis de Lulu étant aussi couverts que les personnages qu'ils contiennent sont dénudés (…). Avoir devant les yeux une aquarelle de Laure est un moment qui plonge dans un bain d'intimité et d'humour, de subtilité érotique raffinée. C'est toujours un jeu de transparences, où tout est dévoilé. Lorsque l'érotisme n'est pas montré, Laure emprunte les chemins détournés de l'humour et de la suggestion pour faire voyager nos imaginations au-delà des limites, avec lesquelles, Laure, joue à flirter.
Laure s'amuse, Laure provoque, mais surtout Laure peint. Elle peint doucement et délicatement, surtout des femmes, beaucoup de femmes, des femmes inaccessibles. Ces femmes, ou plutôt Ses femmes, pour que libertines sous nos yeux, elles deviennent des fantasmes, qui réveillent, sans vulgarité, nos désirs les plus intimes ; sans jamais céder à la facilité. Alors, si vous ne connaissez pas encore ses « poupées russes », ses « quatre saisons » ou sa « Vénus de Willendorf », aquarelles où la provocation la plus grivoise ne choque jamais, au contraire ; il faut vite venir découvrir cette « Madame Lulu ».
La peinture de Laure Muel est une véritable respiration dans un Monde qui se cherche, c'est une peinture qui fait mouche… et à la fin, on sourit… La peinture de Lulu Amere est une peinture toute en sensualité. Elle crée un art subtil, drôle et engagé. Sous les pinceaux de Laure Muel, la vulgarité est timide et raffinée. La peinture est alors un acte de séduction. Laure peint pour séduire les autres puis, pour se séduire elle-même.
Et soudain, je repense à la Mary Poppins de Lulu !
Bertrand SCHOLLER
Be ready: You might be confused
Laure Muel (Lulu Amere) is a cautious and modest artist. Most discreet as well. Her work is rare and delicate, just like the base she decided to favour, viz. paper. A paper from Arches, that which most watercolourists use. A thick paper that lives and breathes even after the final touch of watercolour, pastel, Indian ink, or, sometimes of gold leaf has been applied, like an ultimate sweet caress. Laure chooses her paper, brushes and colours with great care. Their quality is the security of an optimal rendering as well as of the perenniality of each work. No place for chance. The challenge is to do with watercolour, usually given to children, an elaborate and modern painting technique. A different way of dealing with watercolour.
For almost ten years, as if it were a game, Laure started to draw and quickly knew a certain fame, thanks to an online auction site. Lulu offered on it the charm of her talent to the highest bidder. This is the origin of this well thought and perfect anagram, and of her erotic drawings. Owing to this small success, and also to her roots (Laure is the daughter of a painter and sculptor), she becomes a special advisor to a famous picture collector, then a graphic designer for an advertising agency. The way was open. Thanks to the evermore numerous encouragements and the fancy of collectors, the » international » enthusiasm concerning her work keeps growing. Even if the talent of Laure but found a showcase compatible with her modesty on the anonymity of the internet, in May 2013 she however accepted the principle of this retrospective at 55Bellechasse Paris 75007. We are very lucky indeed.
Influenced by Jean-Pierre Ceytaire, a master in the art of eroticism, By dint of drawing her famous drawings, her technique has strongly improved together with the need to do better and more. Now, Laure dedicates herself only to painting. She lives and paints in the south of France, in Provence, in an artist's studio attached to her house. It is there, on a slope of the mountain facing the south that Laure found a shelter far from the tumultuous Paris life, at the end of a winding mountain goat path. She lives amid her decorative hens, her dog, her cats, in the middle of nowhere.
To meet Laure, or to receive a parcel containing her signature is always a very special and hotly anticipated moment. That makes you slightly restless. But, beware! That parcel needs to be undressed with delicate skill; the content is fragile and the conquest requires patience. The parcels of Lulu are just as « covered » as the characters they contain are « uncovered » (…) Gazing at one of Laure's watercolours, is a moment when you are wrapped up in a feeling of humour and intimacy. Sunk into the subtlety of refined eroticism. She always dailies with transparencies, where everything is unveiled. When the eroticism is not shown, Laure borrows the oblique shortcuts of humour to prompt our imaginations to travel beyond the limits with which Laure loves to flirt. Laure enjoys herself, provokes, but before all, she paints. She paints with slow delicacy; essentially women, many women, inaccessible women. These women or rather HER women become´ as we gaze at them, sexual fantasies that awaken without the least vulgarity our most intimate desires; never yielding to facility. So, if you do not yet know her « Matrioshki » her « Four Seasons » or her « Willendorf Venus », watercolours whose most salacious provocation never shocks, quite contrary, do hastily come and discover this « Madame Lulu ».
The painting of Laure Muel is a genuine breath in a world seeking itself; it is a painting that hits the bull's eye...and, in the end, we have a smile on our face. The painting of Lulu Amere is a total sensuous delight. She creates a subtle art, both amusing and committed. Laure Muel brushes vulgarity with modesty and refinement. Painting thus becomes an art of seduction. Laure paints to seduce others, then to seduce herself.
And then, out of the blue, Lulu's Mary Poppins strikes my mind.
Bertrand SCHOLLER
Traduction: Daniel James