Tuesday 10 September 2013 to Saturday 21 September 2013


Exposition No.6 Edouard DE' PAZZI 2013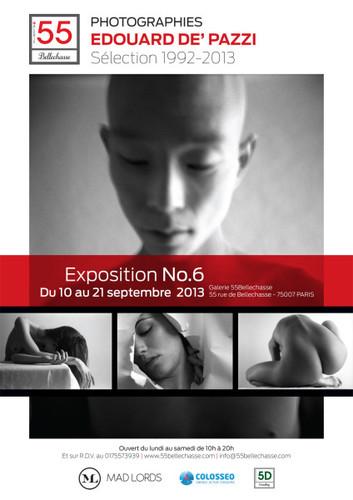 Est-ce que ça se réalise un rêve que l'on fait plusieurs fois ?
Edouard de' Pazzi était un peu comme un rêve flânant à maintes reprises devant la vitrine du 55Bellechasse. Avec son style d'aristocrate italien, on pouvait l'imaginer écrivain ou peintre, voire même chanteur d'opéra avec sa voix de baryton.
Finalement, c'est en Arles, dans une église transformée en lieu d'exposition que l'échange se noue et que le songe devient concret. Décision est prise d'imaginer une exposition pour la rentrée de septembre 2013, qui serait une forme d'introduction à une importante rétrospective en janvier 2014. Plus de 20 ans de photos qui ont connues les honneurs d'une exposition à la Maison Européenne de la Photographie en 2007 seront alors présentées. Edouard est un artiste dont les racines florentines, qui remontent bien avant la renaissance et aux Médicis, ne peuvent laisser indifférents tant son travail photographique rappelle celui des poètes romantiques. Lui, qui dans la rue, n'est que couleurs est clairement attiré par le noir dans sa photo. Comme il l'explique, il aime le noir car la présence de « la lumière y est plus forte, plus dense et parce que le noir a un pouvoir fécondant alors que le blanc résorbe, annihile, fait disparaître ».
La démarche d'Edouard de' Pazzi, où en tout cas la présentation qu'il en fait, est une tentative permanente d'appréhender le temps qui passe. Avec ses photos, il essaie d'en suspendre le vol, comme Lamartine avec ses vers. Il s'agit d'immortaliser l'âme des choses, leur inhérence. Edouard nous y aide en associant savamment, en diptyques, des photos sans liens apparents, mais qui se parlent et ouvrent une porte pour qu'ainsi la ou les représentations se renforcent et facilitent l'appréhension de l'idée, du message, un message qui fait plus que nous parler, il nous met à nu et nous regarde. Pour moi, « La Métamorphose », prise en 2003 est particulièrement emblématique de cette démarche. Edouard y transforme, par un jeu habile de pose et de lumière, un corps de femme en une vanité.
Edouard ose tout, investigue et cherche dans des directions aussi opposées en apparence que des nus « obscènes » et des objets dignes d'un cabinet de curiosité en passant par des paysages au minimalisme évoquant Rothko en Noir et Blanc, des natures mortes ainsi que des compositions abstraites ou des scènes de genre.
Pourtant, malgré cette foison évidente, Edouard n'est pas un touche à tout, il y a un véritable fil directeur à son travail, la volonté de pousser à réfléchir, non sur ce que l'on voit, mais bien sur ce que l'on est. Les dessins et photos d'Edouard ne sont pas des instantanés mais plutôt des allégories poétiques du temps qui passe et deviennent ainsi intemporels et immuables. Edouard de' Pazzi est un poète écorché dont les photos les plus belles sont souvent les plus sombres.
Bertrand Scholler
Septembre 2013
Does a dream one has several times come true in the end? Édouard de' Pazzi was somewhat like a dream, often sauntering past the window of 55Bellechasse. With his style of an Italian aristocrat, he could be thought of as a writer or a painter, or even an opera singer with the voice of a baritone. Finally, it is in Arles, in a church turned into an exhibition hall that the connection occurred and that the dream came true. A decision was made to imagine an exhibition in September, after the 2013 summer holidays, which could be a kind of introduction to a major retrospective in January 2014. Over more than 20 years of photos, which were honored by an exhibition at the « Maison Européenne de Photographie » in 2007, will then be shown. Édouard is an artist whose Florentine roots go back far before the renaissance and the Medicis, and cannot leave indifferent so much his photographic work recalls that of the romantic poets. He, who on the street, is but colours, is clearly attracted by black in his photos. As he explains, he likes black because the presence of light is stronger, denser and because black has a fertilizing capacity, whereas white weakens, annihilates, and causes disappearance. The approach of Édouard de' Pazzi, or at least the presentation he makes of it, is a permanent attempt to apprehend time that passes. With his photos, he tries to « suspend the flight of time » like Lamartine in his poem. The purpose is to immortalize the soul of things, their inherence. Édouard helps us by cleverly associating, in diptychs, photos without any apparent connection but which talk to each other and thus open the way to the mutual reinforcement of what they represent, hence making it easier for us to grasp the idea, the message, a message that does more than talk to us ; it exposes us and watches us. For my part, « La Métamorphose » shot in 2003 is particularly emblematic of this approach. In this photo, Édouard transforms, by skilfully playing with time exposures and light, the body of a woman into a vainglory. Édouard is daring in everything. He investigates, delves into all directions, as apparently opposed as « obscene » nudes and objects worthy of curio cabinets, as well as landscapes whose minimalism hint at Rothko in Black and White, still lives and abstract compositions or scenes of genre. However, despite this obvious abundance, Édouard is not a dabbler. There is a genuine guiding principle to his work, the will to make us think, not about what we see, but actually on what we are. The drawings and photos of Édouard are not snapshots, but rather poetic allegories of the flight of time that thus become timeless and immutable. Édouard de' Pazzi is a tormented soul, a tormented poet whose most beautiful photos are often the gloomiest.
Bertrand Scholler
September 2013