Friday 4 August 2017 to Friday 11 August 2017


SOLO SHOW - Manouchehr NIAZI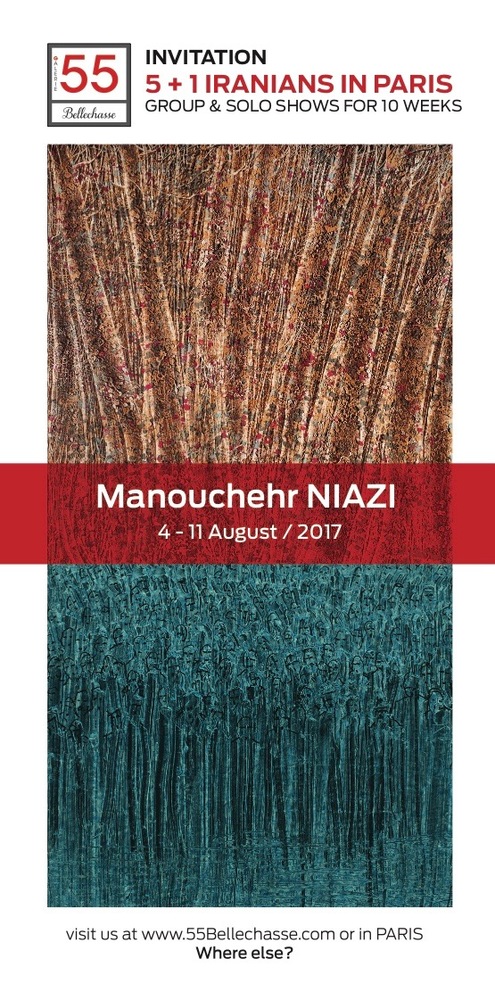 Painting since 1953, he joined the Kamal-Ol-Molk School of Fine Arts, which dispenses a classic and academic education. Influenced by modern art artists like Mehdi Vishkaei, Manouchehr Sheibani, he experimented many styles over his professional career reflecting his talents for composition and color, predominantly in oil paintings. He continues to work and exhibit in his atelier galerie in Teheran but he is also very active in teaching and promoting Iranian art abroad.
Exceeding 120 individual exhibitions in Iran and abroad (NY, Chicago, Tokyo, London, Paris, Milano, Istanbul, Sydney, Dubai…) today, Manouchehr is one of the most prominent contemporary Iranian painters recognized internationally by collectors and museums.
Manouchehr NIAZI is a gentleman from Persia, who on top of being an opera singer and an actor, has always been a painter. Indeed he found in the Art of painting a way to best express himself and the gift he had developed while child then student and young professional, many years ago in Téhéran. What strikes the most with Manouchehr are his love for colours, but in each painting there are only few on the canvas, he the focus on soft harmonies with a specific set of colours; his mastery is mostly recognisable through is talent in giving life to the crowds, forest, trees, cities he had been depicting within few different cycles over the years. We are very glad, for this FACES 3 exhibition, to present you a body of works that cover more than 30 years of the carrier of this Iranian Master. Are we to be sold out with Manouchehr, as most of his recent shows ? Certainly, so come and collect him while his works are still reasonably priced.
Bertrand Scholler March 2017