Thursday 26 July 2018 to Friday 7 September 2018


SOLO SHOW - Franyo AATOTH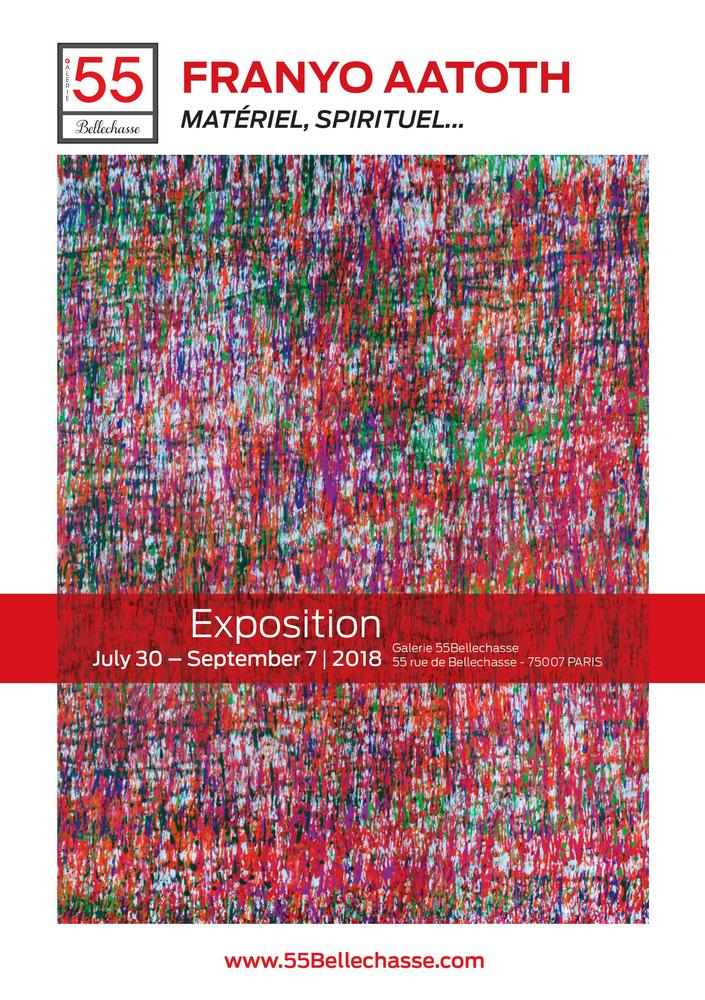 Franyo aatoth is a Hungarian born artist living in Paris and in Rairakhdhammatchart (Thailand). He is a painter and creator of graphic works.
Friend of Victor Vasarely, Yvaral, he had collaborated work for 5 years with the sculptor Ervin Patkaï. As a conceptual image graphic designer, he created numerous visual works for ARTE channel, and for the french renowed Rock group "Noir Désir".
He is the author of the "Le petit Ivre rouge " ( The Dictionary of the traveling barflies) in 18 languages, several editions between 2000-2011. He is an active artist whose works were shown in Europe, America and Asia. His solo exhibitions were in Paris, Budapest, Chicago, Munchen, Canton - Republic of China, UB - Mongolia etc.
But what stroke me the most, after I met Franyo, are all his talents to entertain and convert things in colourful Art. Of course I must admit I like very much wearing the glasses he customised for me, but also hearing him singing with his loud and warm voice, during dinners at club 55Bellechasse.
When I first visited his Parisian studio, a modern city house in Paris, I wasn't surprised to smell fresh painting, or to see shelves full of books and catalogs about his past exhibitions, but also about the great masters of our time and those of our past, whatever the region of the world they originated.
Indeed Franyo is a traveller, even if he settled in France years ago, he has always been enjoying months of trips, every year to work in Asia, near open water.
Thus, he constantly got inspiration and share them with us through new bodies of works. During this solo, you will discover few of them and meet the artist. Don't pass the chance, Franyo is a great master and a friendly human.
Bertrand Scholler March 2017
Painting since 1953, he joined the Kamal-Ol-Molk School of Fine Arts, which dispenses a classic and academic education. Influenced by modern art artists like Mehdi Vishkaei, Manouchehr Sheibani, he experimented many styles over his professional career reflecting his talents for composition and color, predominantly in oil paintings. He continues to work and exhibit in his atelier galerie in Teheran but he is also very active in teaching and promoting Iranian art abroad.
Exceeding 120 individual exhibitions in Iran and abroad (NY, Chicago, Tokyo, London, Paris, Milano, Istanbul, Sydney, Dubai…) today, Manouchehr is one of the most prominent contemporary Iranian painters recognized internationally by collectors and museums.
Manouchehr NIAZI is a gentleman from Persia, who on top of being an opera singer and an actor, has always been a painter. Indeed he found in the Art of painting a way to best express himself and the gift he had developed while child then student and young professional, many years ago in Téhéran. What strikes the most with Manouchehr are his love for colours, but in each painting there are only few on the canvas, he the focus on soft harmonies with a specific set of colours; his mastery is mostly recognisable through is talent in giving life to the crowds, forest, trees, cities he had been depicting within few different cycles over the years. We are very glad, for this FACES 3 exhibition, to present you a body of works that cover more than 30 years of the carrier of this Iranian Master. Are we to be sold out with Manouchehr, as most of his recent shows ? Certainly, so come and collect him while his works are still reasonably priced.
Bertrand Scholler March 2017