Tuesday 14 May 2013 to Sunday 9 June 2013


Exposition No.3 Pascal VOCHELET 2013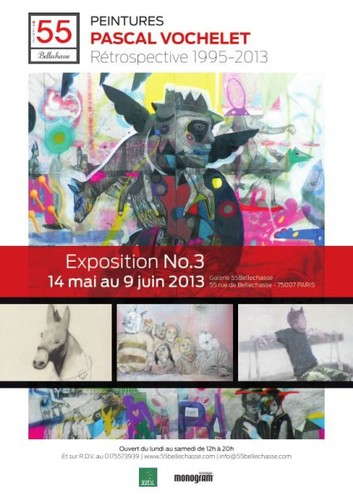 Une peinture singulière et vivante.
Pascal Vochelet (ou parfois P@ul) est un peintre qui ne cesse de travailler avec les formes, les couleurs et les matières. Résultat, cet acharnement à produire, à s'exprimer, est ce qui le conduit à dépasser constamment ses limites, à nous surprendre. Il est le peintre qui est passé, en 8 ans, d' «amuse-gueules» à «collages historiques»... avec à chaque fois, une unité pour chacune de ses séries.
Modestement, il dit que c'est une forme de hasard qui le conduit à découvrir où il pourrait aller... après avoir commencé à peindre.
Pascal ne cherche pas, il se découvre (…) chaque toile est une aventure en lui, et aussi pour ceux qui ont la chance de croiser ses œuvres. Son travail, il faut le voir, presque le toucher, car tout y est sensible et subtile. C'est un instantané qui plonge le spectateur dans un monde à cheval entre le familier et l'étrange.
Il dit qu'il avance sur la toile avec ses pinceaux et collages sans toujours vraiment savoir où il va, mais je crois qu'une telle approche implique une connaissance aiguë des techniques, une maîtrise totale des gestes et un profond sens de l'esthétisme (Pascal a tout cela et même plus ; de plus en plus). Comme Kader Belarbi, j'ai envie d'appeler cela « la culture et la contradiction de l'inspiration et de la liberté que permet une extraordinaire technique. Lorsque le peintre Pascal Vochelet lance un geste, il ne sait pas qu'il sait le faire et il ignore où il ira… ». Tout cela lui permet de se libérer et de produire des œuvres inattendues et singulières, inclassable, qu'on ne peut résumer...d'autant qu'à force de ne pas chercher, il invente un style, son style, aussi éparpillé en apparence, qu'il est singulier.
Et avec des cycles qui se suivent ou se croisent, disparaissent ou réapparaissent, le travail de Pascal prend une dimension toute particulière, presque universaliste.
Il avoue, qu'au fur et à mesure de sa pratique, il se libère, se construit et trouve de nouvelles voies dans la projection de soi, d'un moi intime, il peut se sentir mieux ici ou là, mais que la polyvalence lui est salutaire.
In fine, souvent dans le doute ou l'espoir d'un regard de l'autre, Pascal se dépasse en s'immergeant silencieusement dans sa production, sa quête, son introspection artistique.
Sur un site de vente aux enchères en ligne, Il se faisait appeler P@ul et il a fait le bonheur de nombreux collectionneurs ou amateurs d'art du monde entier. Ainsi, les heureux enchérisseurs de passage pouvaient, parfois, se voir adjuger des merveilles pour quelques dizaines d'euros (hors frais de port). Dès réception de leur œuvre, la plupart rejoignaient le rang des acheteurs assidus… faisant invariablement monter la côte. Malheureusement sur Internet, certaines merveilles échappent parfois aux acheteurs pourtant fidèles et toujours plus nombreux, dont j'étais.
Depuis, ce sont les galeries, les entreprises et les concours qui récompensent Pascal Vochelet en l'exposant et en mettant son œuvre en avant.
Et pour ce peintre attaché à la lumière de Normandie débarqué à Marseille, les couleurs, les formes, les matières qui se posent et se superposent, donnent cette vie et ce rythme si particulier à ses compositions. Ce sont, selon Kader Belarbi, de véritables livrets de ballets.
Pascal VOCHELET se révélant à nous depuis bien longtemps, mérite d'être, vraiment, découvert.
Attention ARTISTE…
Bertrand SCHOLLER
Avril 2013
Et les citations de Kader BELARBI (ex-danseur Etoile du Ballet de l'Opéra de Paris, chorégraphe et Directeur du Ballet du Capitole à Toulouse)
Pascal Vochelet (or at times P@ul) is a painter who ceaselessly works with shapes, colours, and matters. The result of this relentlessness to produce and express himself is what drives him to constantly surpass his own limits and surprise us, He is a painter who, in the course of 8 years, moved on from « amuse-gueules» to « collages historiques », with every time a unity within each of his series. Quite demurely he says it is rather a kind of chance that drives him to discover which way he might go...after starting to paint. Pascal does not try to find, he discovers himself (...) each painting is an adventure within himself, as well as for those who come across his works. His work must be seen, almost touched, for all in it is subtle and sensitive. It is a snapshot into which the spectator dives in a world halfway between what is familiar and what is strange. He says that he moves forward on his canvas with his brushes and collages without always knowing where he is going, but I think that such an approach involves a sharp knowledge of the techniques, a thorough mastery of the movement and a deep sense of aestheticism.(Pascal has all this and even more ; and still more and more.)
Like Kader Belarbi, I feel like calling that « the culture and contradiction of inspiration and freedom that an extraordinary technique allows. When, as a painter, Pascal Vochelet starts a movement, he does not know he knows how to do it, and does not know where he will go,,, » All this enables him to free himself and to produce unexpected and singular works, unclassifiable and that cannot be summed up... inasmuch as by dint of not looking for anything, he invents a style, a style of his own, just as apparently scattered as it is singular. And with cycles that follow one another or crisscross, disappear or appear again, Pascal's work is stamped with a very particular dimension almost universalist. He admits that as his practice develops, he frees and constructs himself, and finds new ways in the projection of his intimate and inner self. He may feel better here or there, but his versatility is beneficial for him. Finally, often in doubt or hope of the other's look, Pascal surpasses himself by merging silently with his production, delving into his quest and his artistic introspection. On a site of online auction, he had himself called P@ul. He brought luck to many collectors and art amateurs all over the world. Thus the happy transient bidders could sometimes see themselves be awarded marvels for a score of euros or so (shipping expenses not included). On reception of the work, most of them joined the ranks the regular buyers. ...almost invariably bullying the ratings. Unfortunately, on the net, some marvels sometimes slip through the fingers of buyers, though they be regular customers and ever more numerous. And one of them I was. Since then, galleries, firms and competitions reward Pascal Vochelet displaying his work and putting it forth. And for this painter bound to the light of Normandy and landing in Marseille the colours shapes and matters which are laid and overlap give his compositions that life and that so particular rhythm. According to Kader Belarbi, they are genuine ballet libretti. Pascal VOCHELET has revealed himself to us for a long time and now really deserved to be discovered. Caution...ARTIST...
Bertrand SCHOLLER – April 2013
Traduction: Daniel JAMES Quotations from Kader BELARBI (Former Star Dancer of the Ballet of the Paris Opera, Choreographer, and Director of the Ballet of the Capitole at Toulouse)